Directions to my office
My office is located at 2046 Lincoln Street, Berkeley, CA 94709, at the corner of Shattuck and Lincoln. From Highway 80, take the University Avenue, Berkeley exit. Drive up University, and turn left on Shattuck. Proceed six blocks to Lincoln, which is one block past Virginia. Lincoln is a left-turn-only street. Walk back to corner of Lincoln and Shattuck, where you will find an art gallery on the corner. The door to my office is right around the side of the gallery; it is the first door on Lincoln Street. Climb the stairs to the second floor. I am in office #1.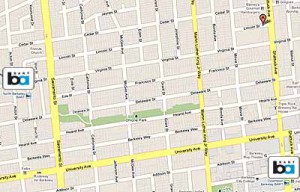 On Wednesdays I work at a second location, 1229 Marin Ave. (between Evelyn and Talbot), Albany, CA.